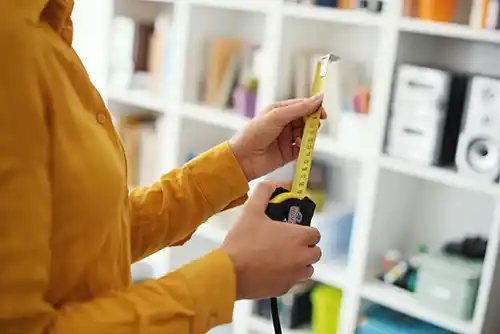 Maximizing space in a modular home is essential for creating an efficient and comfortable living environment. Here are some additional tips from Paradise Homes to help you make the most of the available space:
Optimize furniture arrangement: Carefully plan the placement of furniture to optimize the flow and functionality of each room. Consider creating designated zones for different activities, such as a study area or a play corner. Avoid blocking pathways and keep furniture scaled appropriately for the size of each room.
Use built-in storage solutions: Built-in storage can be a game-changer in modular homes. Utilize built-in shelves, cabinets, and closets to maximize storage capacity without sacrificing floor space. Customizable modular furniture pieces with built-in storage compartments can also be a great option.
Utilize vertical space: Take advantage of vertical space by installing tall bookshelves, floor-to-ceiling cabinets, or wall-mounted storage units. This helps free up valuable floor space while providing ample storage opportunities. Vertical storage is particularly useful in smaller rooms or areas with limited square footage.
Choose space-saving furniture: opt for furniture pieces that are designed with space-saving features. Look for items such as foldable tables, wall-mounted desks, or nesting tables that can be easily stored when not in use. Consider investing in furniture with hidden storage compartments, such as ottomans or beds with built-in drawers.
Minimize clutter: Keeping your modular home clutter-free is key to maximizing space. Regularly declutter and organize your belongings. Donate or sell items you no longer need or use. Keep countertops, tabletops, and floors clear of unnecessary items to create a sense of spaciousness.
Utilize the outdoors: Take advantage of outdoor spaces to expand your living area. Create a cozy outdoor seating area or set up an outdoor dining space. Use the outdoor space for activities such as gardening or playing games, allowing you to free up indoor space for other purposes.
Utilize mirrors and lighting: Mirrors can visually expand the space in a modular home by creating an illusion of depth. Strategically place mirrors on walls to reflect light and make the room feel larger. Additionally, ensure adequate lighting throughout the home, as a well-lit space can feel more open and spacious.
Go for open floor plans: Open floor plans can make a modular home feel more spacious by eliminating unnecessary walls and barriers. Consider removing non-structural walls to create an open and airy layout that allows for flexibility in furniture arrangement and maximizes natural light.
Embrace minimalism: Adopting a minimalist approach to home decor and design can help maximize space in a modular home. Focus on essential items and avoid excessive decorations or furniture. Choose a neutral color palette and streamlined furniture designs to create a clean and uncluttered aesthetic.
Regularly reassess and optimize: As your family's needs change, regularly reassess the space in your modular home and optimize its functionality accordingly. Evaluate your storage solutions, furniture arrangement, and overall layout to ensure they continue to meet your evolving requirements.
Remember, maximizing space in a modular home requires a combination of smart design choices, efficient organization, and a mindful approach to the items you bring into your living space.
Contact Paradise Homes to learn more information regarding the value of modular home living.
---