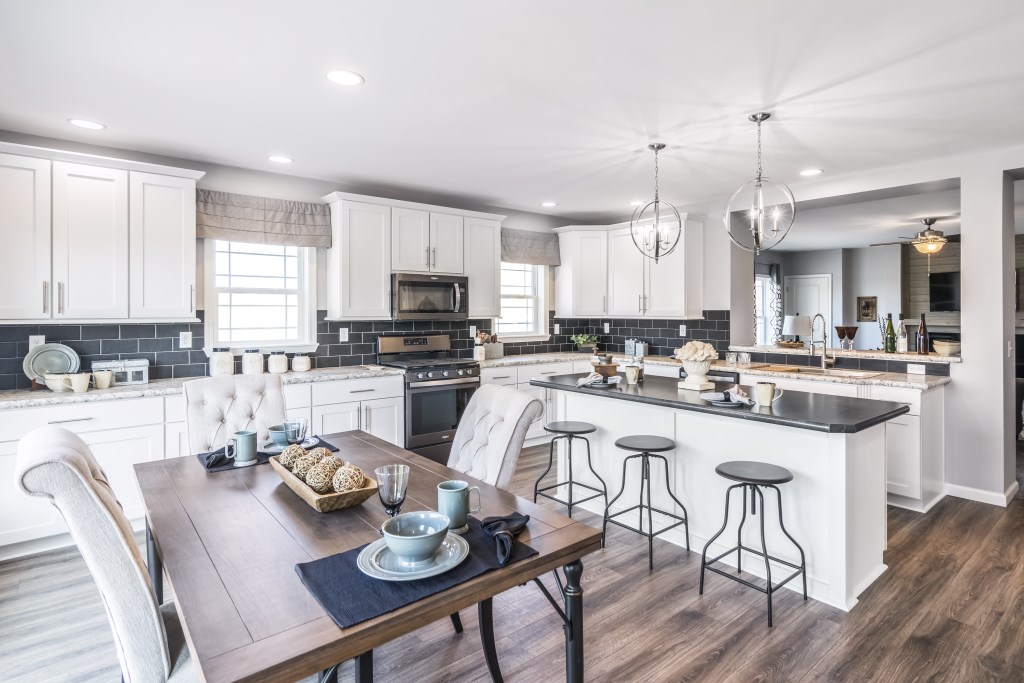 With the new year in full swing and Marie Kondo's "Tidying Up" becoming a cultural phenomenon, you may be thinking that this is finally the year for simplifying your life and decluttering your home. This is a wonderful idea, as research has proven that removing unnecessary "stuff" actually makes us live a fuller, happier life.
Don't believe it? Think about this:
Clutter Makes it Hard to Focus.
A cluttered environment can make your brain less effective at processing information - there's simply too much input. This makes it harder to focus on doing your job, connecting with your family, or simply kicking back and relaxing. A clean, organized space is calming and allows us to focus on the important things.


Less Stuff = More Space.
Feeling cramped in your home? You're not alone. Many of us buy a home and then fill it with as much stuff as possible, then wonder why we don't have any room. By getting rid of unnecessary things in your home, you can make room for what really matters.


Make Some Cash, Save Some Money.
Going through your belongings is a great way to make a few extra bucks for your vacation fund, or at least save some of your hard-earned dollars on the back end. When saying goodbye to unnecessary things, put them in 3 piles: Sell, Donate, and Toss. Put the cash you make from the items you sell towards something that will "spark joy," such as a vacation or adventure. Make sure you get a receipt for the things you donate, and write it off on your federal income taxes.


If this sounds good in theory but you're concerned about how much of your stuff you have to toss in order to "declutter," the good news is that you don't have to go "full minimalist" by only allowing yourself one pair of jeans and three shirts. It's okay to start small. Here are 5 tips to get started decluttering your home - and in the process, your life.
The 1 Year Rule.
An easy place to start cutting the clutter is by implementing a few rules. The first rule is simple: If you haven't used it in a year, you probably don't need it. Check out the back of your closet - odds are that there are quite a few things that you haven't worn or used in over a year or more. These items should be first on the chopping block. Not sure what you have and haven't used? Try the clothes hanger trick: hang all of your clothes with the hangers facing out. Then when you wear an item and replace it, place the hanger facing in. You'll soon see what you use and what you don't.


Get Rid of Duplicates.
This is another easy way to downsize your stuff. Got two (or more) of something? Keep the best one, and toss the duplicates. Obviously this doesn't apply to things like silverware or socks, but do you really need 3 cheese graters and 6 bottle openers?


"Sparking Joy."
In the hit Netflix show "Tidying Up," Marie Kondo instructs us to hold each item in our home and ask ourselves: "does this item spark joy?" The concept is simply to keep the things you love, and get rid of the rest. If you can do this, then everything you own will bring you joy. Doesn't sound like a bad way to live, eh?


1 In, 2 Out.
Picking up a new pair of sneakers to help with that other new years resolution? No problem. Just be sure to get rid of 2 old pair as soon as you bring them home. One of the biggest culprits of clutter is duplicate items (see #2) or multiple items that serve the same purpose. Often we buy something new with the intention of replacing something old, but never get around to actually getting rid of the thing we replaced. That's where the 1 In, 2 Out rule comes in. If you truly need or want that new pair of jeans, it's time to let 2 pair of old jeans go.


Shop Critically.
Once you've spent the time removing clutter from your home, don't be in a rush to fill it back up with new stuff! Impulse shopping is not only bad for our bank accounts, but it keeps our homes overflowing with things that we simply don't need. So before you swipe your card, ask yourself: "Will this Spark Joy?" "Will this replace something I already have?" "Will I actually use this?" "Am I willing to get rid of 2 things I own to bring this into the house?" If you can't answer all of these questions with a yes, put it back on the shelf.


Would a new home spark joy? If so, stop by Paradise Homes to chat with one of our experts. We have a variety of model homes at our sales center that you can tour, all with different options, floorplans, square footage, and styles. You can walk through our models and discuss what features spark joy for you, where you'd like to build, and what your home will cost. We'll customize a floorpan just for you, and walk you through every step of the home buying process.
If you're ready to talk about your new home, CONTACT US or give us a call at 304-291-0072...or better yet, stop by our office in Morgantown!
If you'd like to learn more about modular homes, click the button below to download our FREE guide here!
---