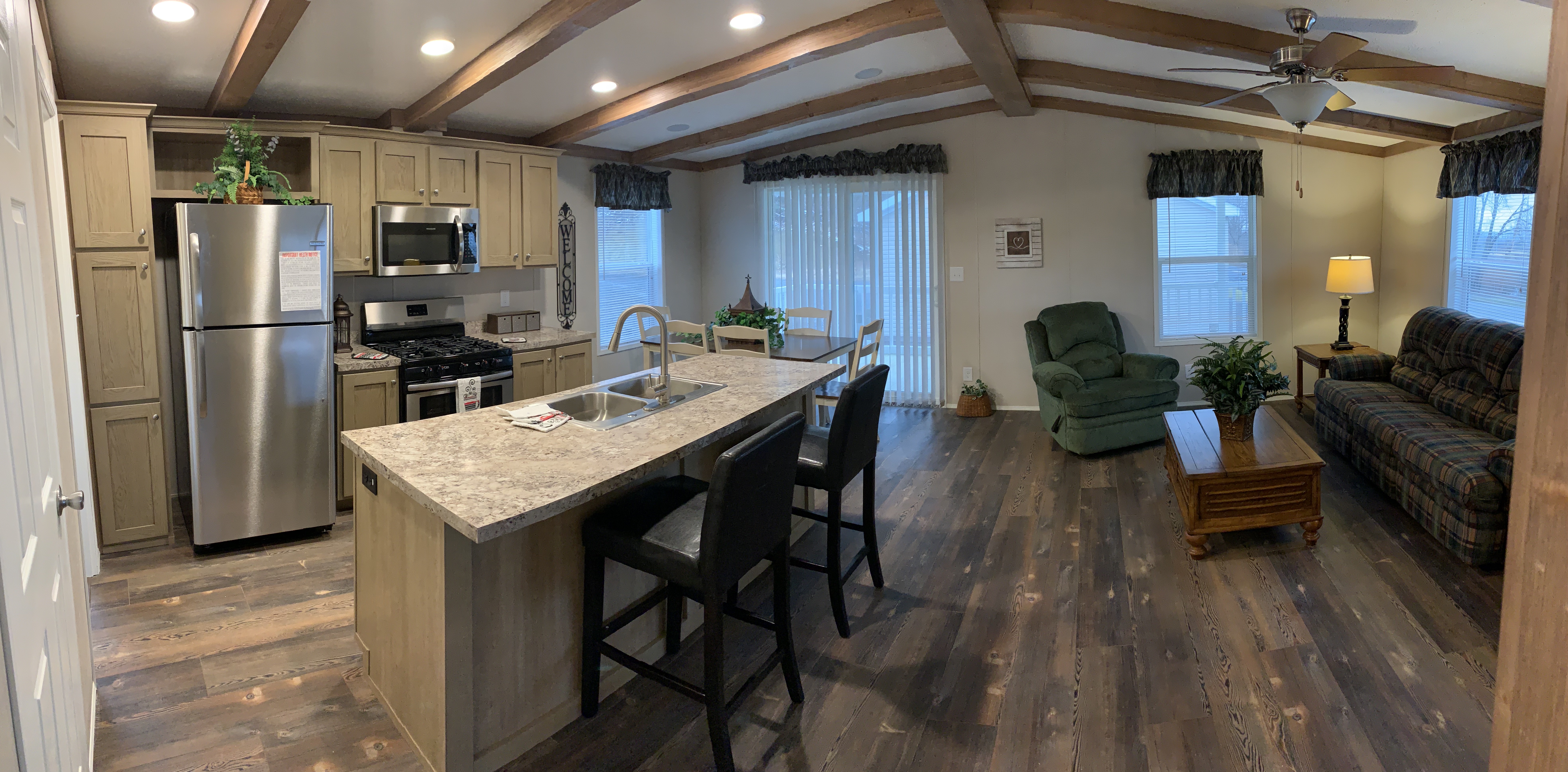 We spent the past few months selling a bunch of our model homes at clearance prices in order to make room for the new display models that we ordered, and we're happy to announce that the first new display home is ready for tours! We opened a new low-cost display home called the Astro Bungalow. This 2-bedroom, 1-bathroom home has a smaller footprint and is designed for low-maintenance, comfort, and value for individuals or small families. Check out what Newswire had to say about our announcement in a recently published article:
Morgantown, WV home builder Paradise Homes announced the opening of its newest affordable model home. The 850 square foot bungalow is a new addition to the company's inventory of display homes, and is perfectly suited to individuals and small families.
More information about Paradise Homes is available at http://paradisehomeswv.com/astro-bungalow-3a2601-e.
The Morgantown home builder is showcasing the Astro Bungalow, built by manufacturer Commodore Homes, that combines affordability with premium features.
The Paradise Homes Astro Bungalow draws design inspiration from classic compact bungalows, incorporating contemporary features such as 30-inch interior passage doors with metal interior passage sets, fiberglass rear doors, KCMA-approved kitchen cabinetry, and other modern amenities. The construction features a recessed frame design and transverse floor design with a full cathedral ceiling. The dimensions of the house are 22 feet 8 inches x 36 feet with a low-maintenance no-wax LuxFlor vinyl floor.
The house is designed for energy efficiency with full LED flush mounted lighting, vinyl-insulated Low-E windows, and LED lighting in closets and in the pantry. Key systems in the model home include smoke detectors, battery backup, a 30-gallon electric water heater, air exchange system for the furnace.
According to Cathy Slaughter, one of the owners of Paradise homes, "While most of our display homes are 1500-2500 square feet or more, we wanted to showcase this 850 square foot bungalow because a lot of folks out there just want a comfortable home that is easy to take care of and is very affordable. This fits the bill perfectly for those folks."
Paradise Homes is a family-owned building company specializing in manufactured and modular homes. The company is headed by owners Tim & Cathy Slaughter and Ron Sova and employs a construction team that has more than 40 years' experience in the modular home business. More information is available over the phone at 304-291-0072, at http://paradisehomeswv.com and at the URL above.
If you'd like to see the Astro Bungalow in person, stop by our office in Morgantown WV where we can walk you through this home and other display homes, discuss your needs, and customize a floorpan just for you.
To learn more about the process of buying and building a modular home, download our FREE guide here!
---